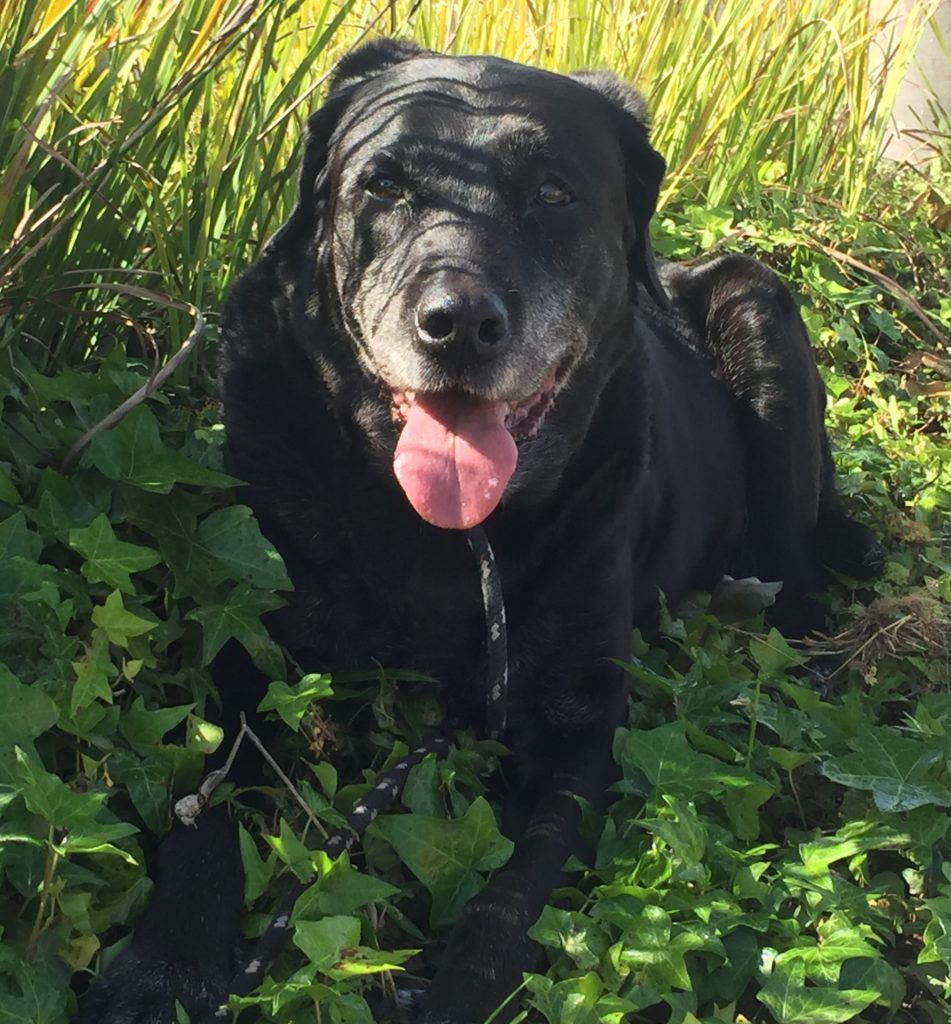 This is my dog CALI. This picture was taken today Sunday April 14, 2019. Cali has been part of my life for the last 12 years. Those of you who already come to my Rolfing Practice know she's always under the desk. Sometimes she comes out to entice someone to 'try' to get the ball out of her mouth. When she doesn't come out I'm asked 'Where's Cali?' I appreciate that you all accept her. Some of you spend more time with her than with me and I'm jealous! ?
I purchased Cali in February of 2007. She was 10 weeks old. Such a cute bundle of fur. The quietest of her litter mates. Confident, inquisitive, happy go lucky. I'm pretty sure she picked me more so than I picked her. It was a perfect match.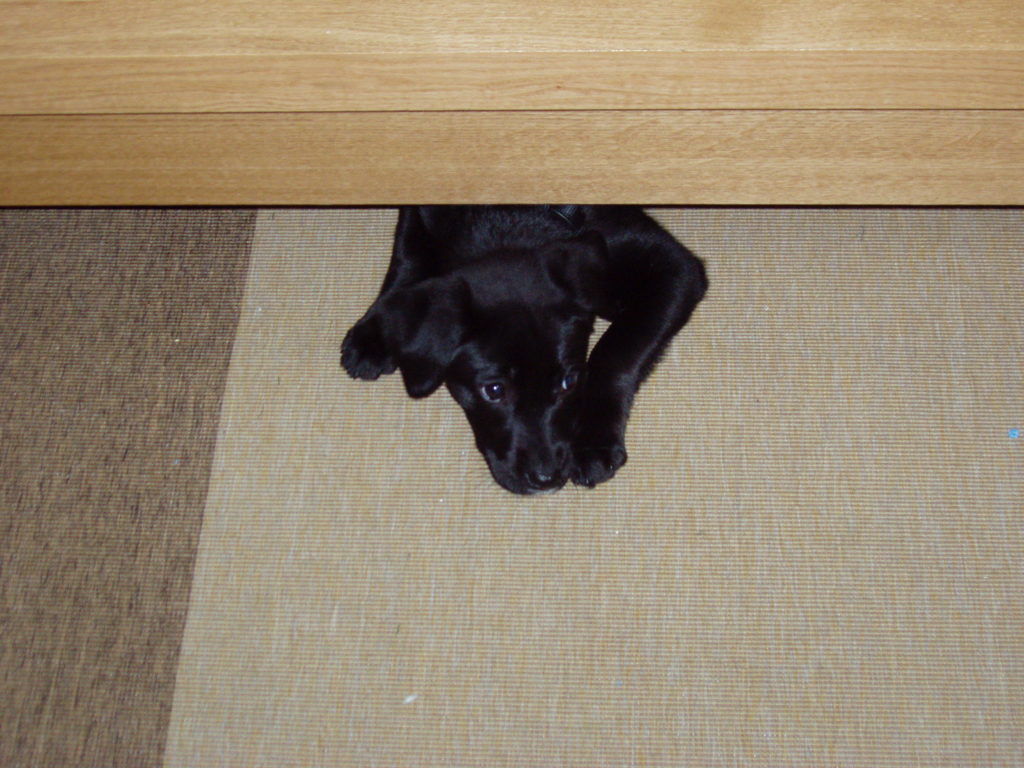 Until we arrived home to my attic apartment. She must have known she was in her forever home. It wasn't 10 minutes after we walked in the door she was no longer quiet. Bark, bark bark. The confidence turned into demands. Inquisition turned into destruction. I've still got my Netters Anatomy book taped together with box tape. She mutilated it.
Having a dog for 12 years comes with some pretty interesting situations. The first time I had her off leash at the beach she STOLE a hot dog right out of the arms of an adorable 3 year old little girl. The girl cried out then balled at the top of her lungs. Cali swallowed the dog bun-n-all in two chomps before I could even reach them! Talk about humiliating and hilarious at the same time. Then there was the time her face swelled up and made her look like a Shar-pei after getting the day old pizza from deep inside a bush on that hiking trail we frequented in San Diego. Yes she ate EVERYTHING.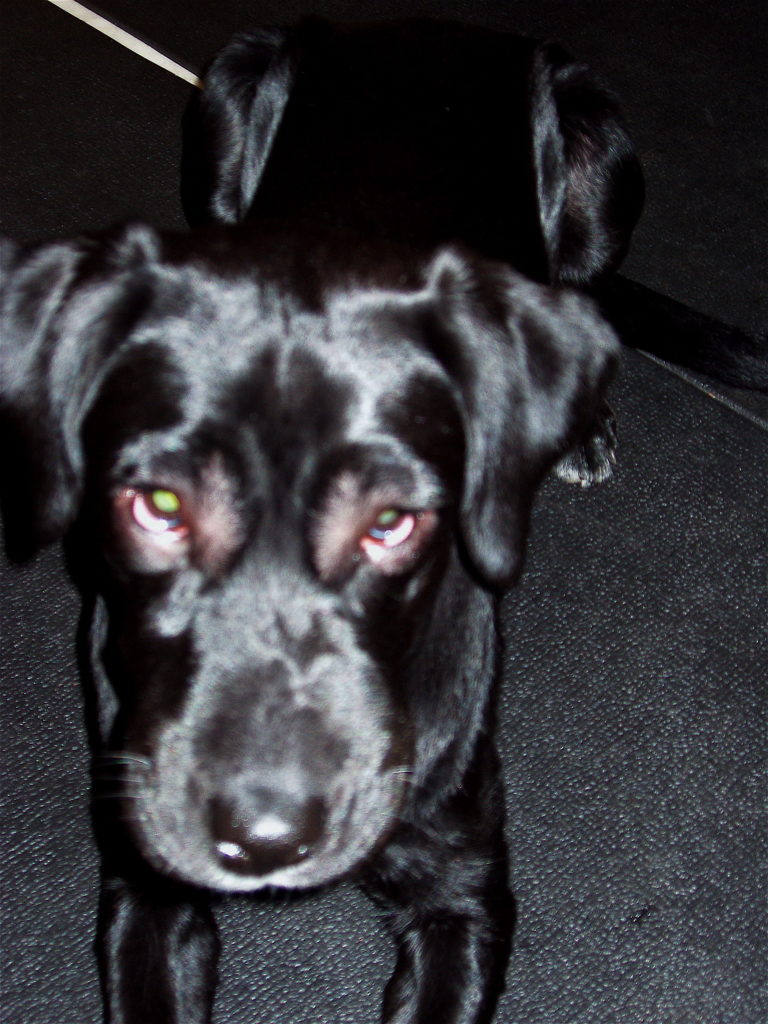 The big one- was the ACL tear that the vet demanded she needed surgery for. Thank you my pet's brace. Since Cali will do anything for food getting her use to the brace was easy. Here she is with her custom made ACL brace. It's been a little over 2 years since we stopped using the brace and she's doing very well. She jumps in and out of the boat daily.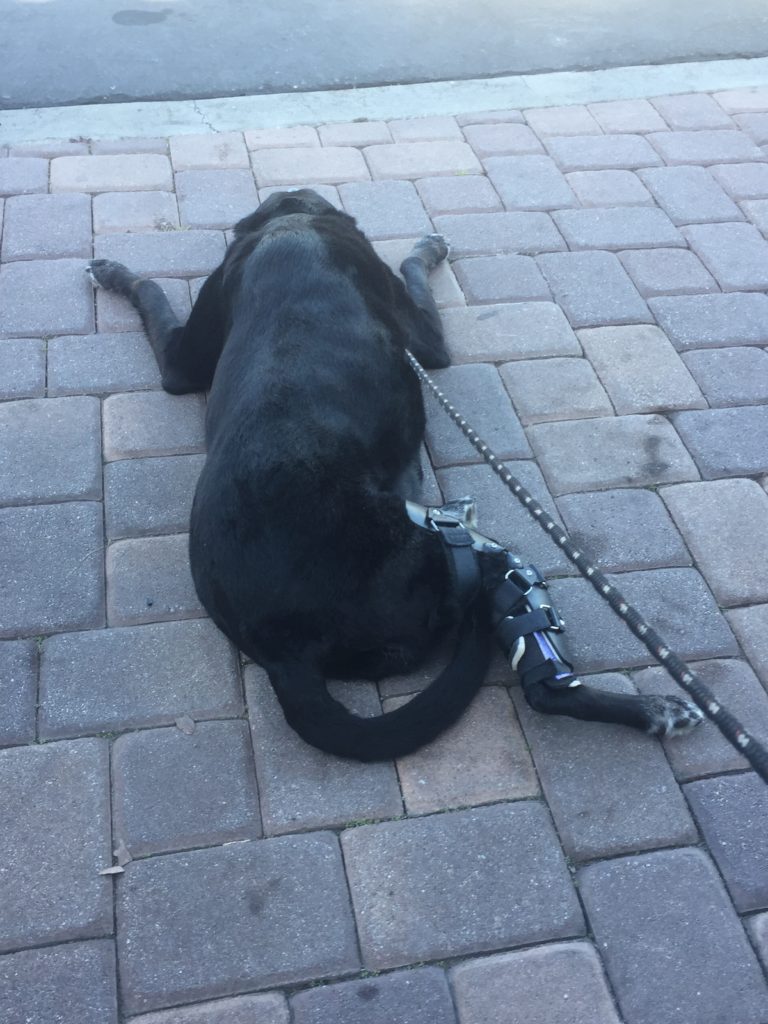 Cali has taught me…….Actually she's allowed me to test things out on her and by diligent research or the grace of God the natural remedies I've chosen have worked. So in essence she's taught ME how to age. Here are a FEW of the things I've learned.
Diet is important! Cali has fatty tumors. There everywhere in muscle, is superficial facia, intestines, lymph nodes. I'm I felt a new on yesterday under her jaw. Manufactured dog food (for Cali- I'm not making a claim) makes the tumors grow. I take her off dog food and feed her raw chicken and cooked vegetables- the tumors shrink. They don't disappear they stop growing.
Take your supplements! This dog LOVES food. But now that she's old she is selective on what she eats when it comes to fruits and vegetables. But Doctor Shultze Super food + or ISAGENIX Joint supplement- she gets that gross dangle thing saliva hanging form her jowls. One tumor wasn't responding to the new diet so I consulted the vet to get a diagnosis. He did a small needle aspiration and it's benign but he also did X-rays. She has ZERO signs of arthritis. Schwing!!
Cleanse your organs! Another thing that trips me out about Cali. She drools over the mixture of K9 liver cleanse- K9 kidney cleanse and CBD for dogs.
I'm not saying that you should cleanse or that everyone should give their dog liver and kidney cleansing support. I am saying that it's working for us at this stage in the game where Rolfing is not as effective as it use to be for Cali. The ACL tear was a turning point and Rolfing wasn't making that heal. Rolfing was a great compliment to My Pets Brace. And I think that the combination of Rolfing, Cleansing, Supplementing and Diet helped Cali's body repair itself.
Come in- Meet us for yourselves. We love visitors and people! I still Rolf dogs and other animals. My consultations are free. No question is a bad question.